Student Reflection 2022 | Student-Centered Religious Learning and Literacy Lab (SCRoLL Lab)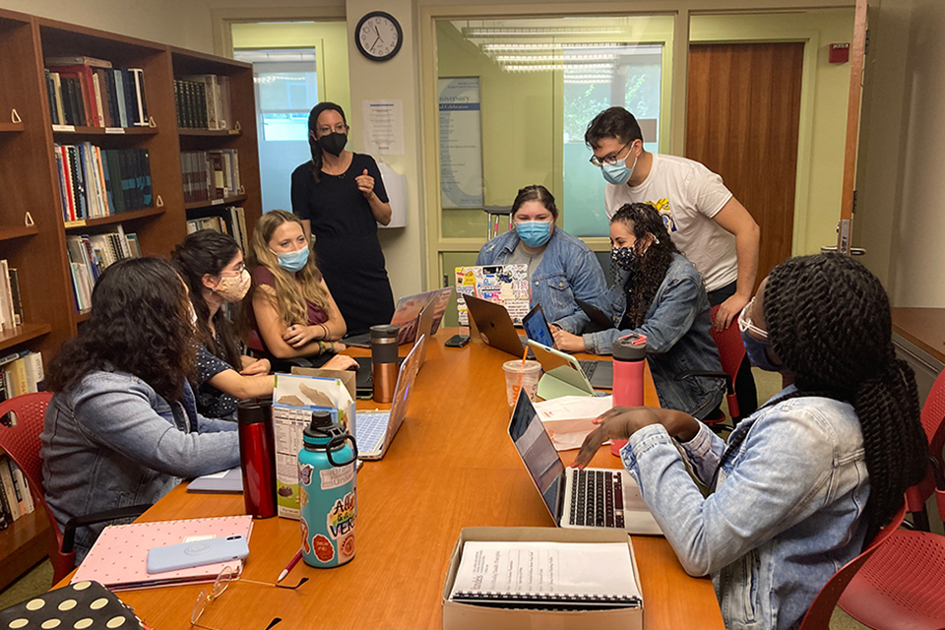 Student Reflection 2022 | Student-Centered Religious Learning and Literacy Lab (SCRoLL Lab)
Student Reflection 2022
A day at the SCRoLL Lab
By Wintana Sium '23
"A variety of ideas, perspectives and knowledge are all welcome in the lab."
It's 12:40 p.m., five minutes before the start of our weekly lab meeting. I walk towards a sheltered complex of red and white buildings at the back of the university. Bold metallic letters protrude from a red banner Abraham Shapiro Academic Complex. As I enter through the double doors, muffled voices begin to be heard. "Let's think a little more…" a voice may intervene, "The child seems very confident…", "They seem to understand what the shore done…", and "What more can we know? ". A large square table sits in the center of the lab room occupied by focused and energetic research students. Stacks of intensely annotated papers marked in red or purple ink cover the surface of the table. One student may stand in front of the room explaining a new pattern he observed, another student respectfully disagreeing, and another quickly typing notes from the meeting. Conversations, ideas, and thoughts constantly flow through the room for the next hour. It's SCRoLL Lab and it's an experience in itself.
At the SCRoLL Lab, our research studies how written text is read, interpreted and understood by young students. We observe how children understand ancient texts in an ancient language to discover the mechanisms of literacy. In doing so, we are slowly approaching answers to such important questions as, what does it take to read and interpret texts? What sets of resources do students use to make sense of texts.
Our studies focus primarily on young readers of Jewish day schools. Using qualitative research methods, including task-based interviews and careful observation, we uncover deeper and perhaps intrinsic patterns of textual interpretation.
You don't have to be Jewish or have an incredible knowledge of Biblical Hebrew to broaden the search and contribute. I barely know of the two. Yet that never stopped me and other non-Jewish members from enjoying and immersing ourselves in the lab discussions. I am still able to absorb, question and constantly deepen conclusions that we may already assume we know. Diverse ideas, perspectives and knowledge are welcome in the lab. Different ideas are openly encouraged and Professor Hassenfeld says this adds to the richness of our research. There is always a new door, a new question posed within the laboratory.
For me, SCRoLL Lab has deepened my appreciation of our cognitive functions, our socio-cultural influences and our overall development. The children we observe always arouse our curiosity during our lab meetings. From the studies we conduct, we look beyond children's potential background knowledge of the verse and discover how the structure of schools, communities and other cultural artifacts build and regulate their imaginations around what they read. There is never a day when there is not something to analyze, dissect and discuss within the SCRoLL Lab.
Wintana Sium is a double major in Psychology and African and African American Studies with a minor in Journalism. She worked as a historical research assistant under Professor Abigail Cooper in her forthcoming book "Pierced Dimes and Placenta Fires", analyzing how black communities used folk knowledge to forge and liberate their identities. Wintana is a rising scholar with a desire to work in archives to preserve the stories of diverse cultures, ethnic groups and communities and strive to contribute to a holistic and candid understanding of history. Additionally, Wintana designs courses for the Diocese of the Eritrean Orthodox Tewahdo Church of the United States and Canada. She has created lessons regarding the history of the Eritrean Orthodox Church and topics regarding iconography, liturgical history, dogma, religious beliefs and doctrines. Wintana is thrilled to be part of the SCRoLL lab, expanding her knowledge of the rich Hebrew Bible and its linguistic elements.