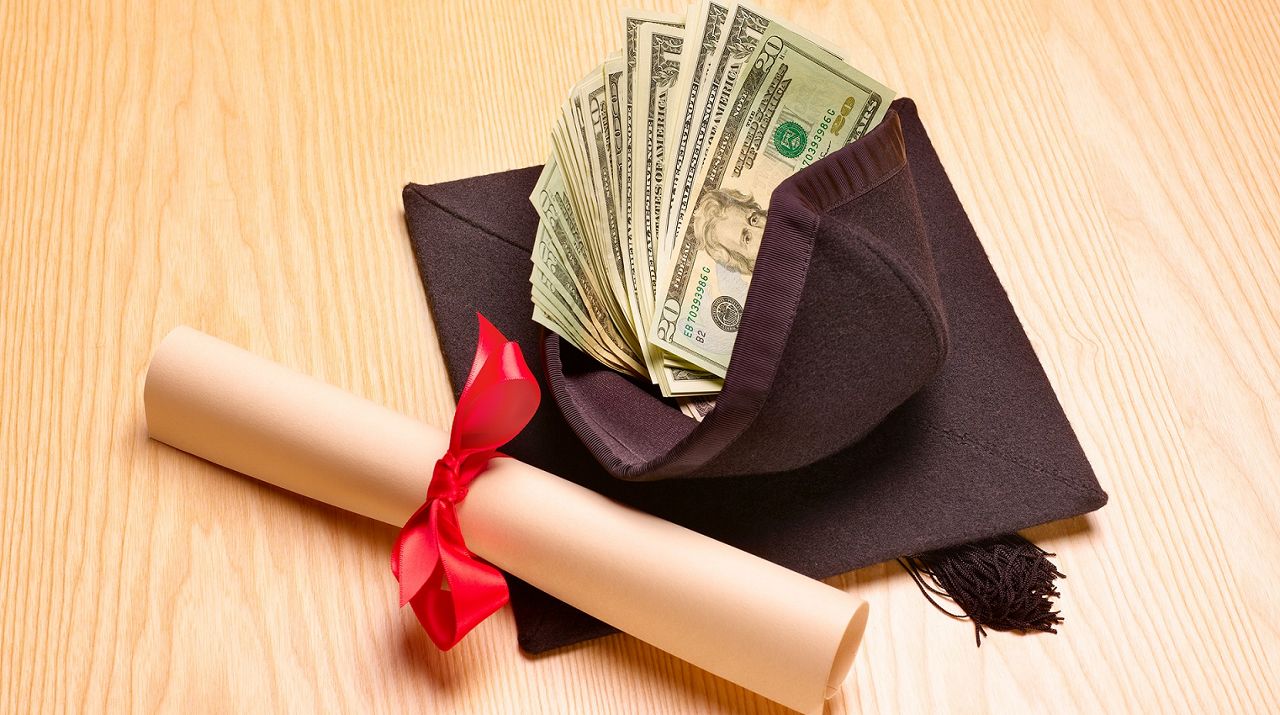 Student loan forgiveness halted by legal challenges
RALEIGH, NC — Applications are open for people to apply for student loan forgiveness in the amount of $10,000 to $20,000, but the program is facing legal challenges.
So far, 22 million borrowers have applied for relief, which is a process that takes about 30 seconds to complete on desktop or mobile, according to the Center for Responsible Lending in North Carolina.
What do you want to know
Applications have opened for people to apply for federal student loan relief on October 20
A federal appeals court has issued an administrative stay, temporarily blocking President Joe Biden's plan to forgive billions of dollars in federal student loans
Biden promised to forgive up to $10,000 in student loan debt while campaigning to sit in the Oval Office
Jaylon Herbin works with many students as an outreach associate and policy manager for the center. He says the impact of debt cancellation would be immeasurable.
"For a lot of them, being able to buy a house for the first time, start a small business, be able to live and not have to worry about living paycheck to paycheck," Herbin said. "It's going to be huge. So that's what we hope to see.
However, on Friday night, the Eight Circuit Court of Appeals suspended the program while it considers a motion by six Republican-led states to block the plan.
These states include Nebraska, Missouri, Arkansas, Iowa, Kansas, and South Carolina.
Nebraska Attorney General Doug Peterson, one of the attorneys leading efforts to block the debt relief program, said in a statement, "We are pleased that the temporary reprieve has been granted. It is very important that the legal issues involving presidential power be analyzed by the court before transferring more than 400 billion dollars of debt to American taxpayers.
It is unclear how long the appeal process will take. Originally, the Biden administration planned to start writing off debt as early as mid-November.
White House press secretary Karine Jean-Pierre said borrowers should continue to seek the relief and will work to prepare for the rollout of the relief.
Time is running out on the matter, as payments on federal student loans are set to restart on Jan. 1, after being halted during the pandemic.
The federal student loan relief plan would forgive $10,000 of student loan debt for people earning less than $125,000 or households with a combined income of less than $250,000. Pell Grant recipients would be eligible for additional debt forgiveness of $10,000.
While the call is short-lived, Herbin says borrowers can expect to see relief beginning in January.
"It's a very quick turnaround. But we expect a lot from this administration," Herbin said. "They worked with the services. They have worked with everyone to make sure this process is a quick and easy process for everyone to get help.
People can apply for the relief until the end of December 2023.