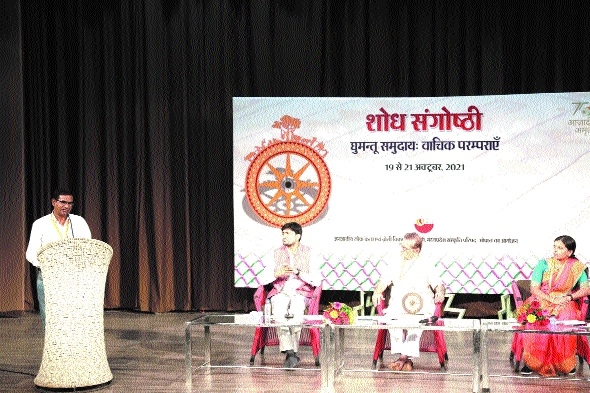 Researchers present research papers at a seminar
[ad_1]
Academics presenting their research on day 2 of a seminar in Bhopal Wednesday.
Journalist :
The seminar led by the Janjatiya Lok Kala evam Boli Vikas Academy, centered on "Ghumantu Samudaay: Vaachik Paramparaein", saw the presentation of research articles on the deities, festivals, beliefs and social organizations of nomadic communities. Academy Director Dharmendra Pare, Dr Mukesh Mishra and other academics attended the session. The first session of the seminar was chaired by Dr Puran Sehgal and Ujjwala Samadhan Dange from Maharashtra was the keynote speaker. Dange presented his research paper on the nomadic community of Bharadia. She informed that people from the Bharadia community do not get married in the same Gautra. Instead of the girl's family, the boy's family offers a dowry during the marriage.
This community makes a living begging for alms and Bhairavnath is revered by the community. The community visits Ujjain, Nasik and other places of pilgrimage and sings songs in praise of Lord Mahadev and Ganapati. She then said that this tradition was dying out. Chairing the seminar, Dr Puran Sehgal said that all the speakers have worked hard to prepare their research papers. He added that a common thing has been observed among the Banjara community and other communities that when they move from one place to another, their language changes. Following this, Sehgal explained the difference between the communities by reciting the songs of the Banjara community. At the seminar, Dr Ganpat Rathore from Ambajogai presented his research paper on Banjara community, while Priyanka Tiwari from Chhatarpur presented it on Bhoj tradition in Kanjar society, Saurabh Gurjar from Ratlam on Kavdia community Bhat, Dr. Bharti Hada from Khirkiya presented him on the Ghatya community and Dr. Khemraj Arya from Sheopur presented his research paper on the popular culture of the Banjara community.
[ad_2]