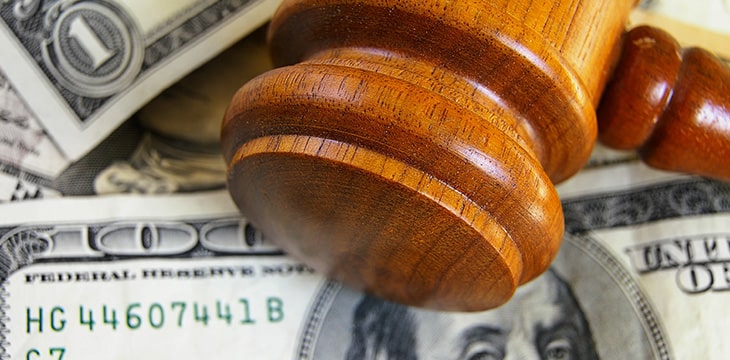 Jack Dorsey announces Bitcoin Legal Defense Fund to fight Satoshi Nakamoto
Jack Dorsey, Founder of Twitter and CEO of Block, Creates "Bitcoin Legal Defense Fund" in Response to Dr. Craig Wright's Rapidly Progressing Legal Campaign.
The proposal was submitted to the Bitcoin Developer Mailing List by Dorsey, Chaincode Labs' Alex Morcos, and university blockchain professor Martin White, apparently the Fund's three board members. Although it claims to be a Bitcoin defense fund, the wording of the proposal itself reveals that there is only one type of legal battle Dorsey wants to fight – those that protect BTC:
"The Bitcoin Legal Defense Fund is a non-profit entity that aims to minimize the legal headaches that discourage software developers from actively developing Bitcoin and related projects such as the Lightning Network, Bitcoin privacy protocols, etc.
an email to the bitcoin development mailing list of @jack explaining the Bitcoin Legal Defense Fund pic.twitter.com/y1XY3XG0IR

— Zack Voell (@zackvoell) January 12, 2022
The announcement identifies Dr. Wright's groundbreaking legal battle (brought via Tulip Trading) for the courts to recognize that Bitcoin developers have fiduciary duties to those who rely on their development and maintenance of the blockchain as the primary target of " defence" of the Fund.
The proposal is in line with Jack Dorsey's model of opposition to Bitcoin and Dr. Craig Wright in particular. The creation of the Fund echoes the Twitter founder's earlier creation of the Crypto Open Patent Alliance (COPA). COPA was initially sold by Dorsey as an independent anti-patent litigation group for the cause, but since its inception nearly a year ago, the so-called Alliance has yet to do anything but oppose Dr. Wright's claim on the Bitcoin whitepaper. Members of the Alliance consist almost exclusively of BTC's most notorious defenders and outspoken critics of Dr. Wright.
The most telling part of this latest proposal is that the Fund – despite having already identified its first target in Dr. Wright and Tulip Trading – is not raising money. Since the Fund appears to be made up of just Dorsey, Morcos and White, the announcement seems to be less about creating a general purpose fund for helpless defendants and more about a statement that the Twitter billions of Jack Dorsey will be made available to anyone who finds themselves facing Dr. Wright in court. Indeed, the announcement concedes that the lawsuits and defendants the Fund chooses to defend are entirely at the discretion of the three-person board of directors.
Dorsey's decision is likely to give Dr. Wright's legal opponents an extra financial chord, but it won't help them defend against his legal arguments once they get to court. Dr. Wright argues for the imposition of tort and fiduciary duties on blockchain developers to their user base, and there is a strong legal basis to conclude that such duties exist. In addition to the UK courts' willingness to extend fiduciary duties to new relationships, courts in other jurisdictions have also found that peer-to-peer software distributors are directly liable for the infringements they permit: see the decision of the United States Supreme Court in MGM Studios, Inc. v. Grokster, which declared P2P software distributors directly responsible for infringing its users' copyright. Even if courts fail to find that blockchain developers owe such obligations to their users, there are still other means that could be used to hold blockchain developers accountable to the people who rely on them. For example, the law may hold a party civilly liable for having accessorized the commission of legal offenses even though he did not directly commit them in the same way that a person may be held criminally liable as an accomplice to a crime .
The timing of the announcement is likely partly a response to Dr. Wright's growing list of legal victories, such as last month's landslide victory over Ira Kleiman, who was trying to argue that his late brother played a role in the invention of Bitcoin by Dr. Wright. The jury rejected this argument, finding that the invention belonged solely to Dr. Wright.
Considering the amount of open litigation that still hinges on whether or not Dr. Wright is the inventor of Bitcoin, perhaps the Bitcoin Defense Fund should be taken as a sign of desperation by its detractors. .
To follow The CoinGeek Crypto Crime Cartel series, which plunges into the flow of groups – one of BitMEX at Binance, bitcoin.com, Blockstream, Metamorphose, Coinbase, Ripple,
Ethereum, FTX and Attached– who co-opted the digital asset revolution and turned the industry into a minefield for naïve (and even experienced) market players.
New to Bitcoin? Discover CoinGeek bitcoin for beginners section, the ultimate resource guide to learn more about Bitcoin – as originally envisioned by Satoshi Nakamoto – and blockchain.