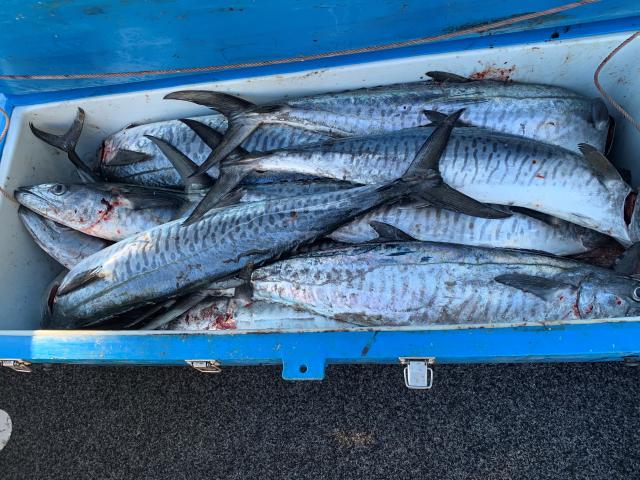 'Disastrous' measures for mackerel: conservationists – Gympie Today
Donna Jones
The Queensland Government has announced new fisheries management agreements for Spanish mackerel.
The measures will be introduced from October this year, which governments say will help 'recover depleted stocks and protect good jobs in the fishing industry for generations to come'.
However, the Australian Marine Conservation Society (AMCS) says the move will be "disastrous" and much more needs to be done to protect vulnerable species.
The Ministry of Agriculture and Fisheries Industry Development plans to implement two three-week closed seasons in waters upstate from October 2022, and two three-week closed seasons in southern waters from February 2023.
Commercial fishermen will have a reduced total allowable catch each year from next July, while recreational fishing for Spanish mackerel will be allowed the other 46 weeks of the year with a bag limit of one per person or two per person. boat.
Agriculture Industry Development and Fisheries Minister and Minister for Rural Communities Mark Furner said the new arrangements would provide certainty to commercial, charter and recreational fisheries while striking a balance between stock recovery and a better controlled access for fishermen.
"Based on extensive feedback and expert scientific advice, we will use a combination of measures to ensure more fish stay in the water each year," Furner said.
But AMCS says the decision to implement Great Barrier Reef spawning closures for Spanish mackerel fishing for just six weeks of the season is not based on science and will be disastrous for the depleted stock. .
The government press release indicates that more than 780 submissions were received during the second round of consultations and that nearly 70% of respondents preferred option 1 over option 2, which included fishing closures of up to at 12 weeks.
Mr. Furner thanked the more than 780 participants in the second and final discussion paper, including working group members, industry bodies, recreational anglers and other stakeholders who provided valuable input.
"We support a sustainable fishing sector in Queensland, which is why we have spent much of the last year consulting with commercial, recreational and charter fishers," he said.
"Spanish mackerel are a key part of a healthy marine ecosystem, and much of the fishery operates within the Great Barrier Reef World Heritage Area.
"With the latest stock assessments showing Spanish mackerel stocks down to just 17%, doing nothing was not an option.
"These carefully considered new management measures are not a 'set and forget' approach – Spanish mackerel stocks will continue to be monitored each year through a combination of measures including catch rates and stock assessments using the most recent data.
"In addition, the Fisheries Research and Development Corporation is supporting a new three-year Spanish mackerel research project, which will be led by researchers from the Ministry of Agriculture and Fisheries.
"The project will focus on the impact of shark depredation and environmental influences on the fishery, exploring the application of emerging genetic approaches to estimate stock abundance using the tag-recapture method. relatives, estimating post-release survival and improving the standardization of catch rates. ."
But AMCS said that under the new arrangements, fishermen will still be able to hammer critical spawning aggregations for at least half of the spawning season.
In a press statement, AMCS said Fisheries Queensland had publicly consulted two options for managing the overfished stock and had now made a decision on future arrangements.
The statement said a recent stock assessment found that the East Coast population is at an all-time low of 17% of unfished levels and that under the department's own rules, fisheries with stock levels are less than 20% should be completely closed to fishing to allow them to recover. .
AMCS Queensland fisheries expert Simon Miller said the measures the government has agreed to are half-baked and may not restore the stock.
"We are appalled by this decision. The Queensland Government threw its own policies in the trash and followed what the commercial and recreational fishing sectors demanded.
"We're still going to see over 300 tonnes of this iconic species removed from Queensland's east coast waters each year, including during the critical spawning season," he said.
"For Spanish Mackerel to return to resilient and healthy levels, the Queensland Government must close fishing for two years and then fully protect spawning aggregations by banning fishing altogether.
"But they chose not to take that option.
"If this is how the government thinks it will achieve a sustainable fishery, it is in dreamland.
"We have serious concerns for the future of Spanish mackerel under this ill-conceived approach."
According to the plan, AMCS says a new stock assessment will not be completed until 2026/27, by which time it could be even more depleted.
Mr Miller said that under the Queensland Government's Sustainable Fisheries Strategy, key stocks like Spanish mackerel should be assessed annually or at least every two years.
"This decision shows that the government has already abandoned its sustainable fisheries strategy, which is supposed to guide important decisions like these.
"There is no chance of achieving the Strategy's 2027 targets with this decision. Unfortunately, it looks like they bottled it up," Miller added.
"The Spanish mackerel is an emblematic species in a World Heritage area.
"We need to do more to improve the resilience of the Great Barrier Reef by protecting these key predators.
"If the Queensland Government is to leave a legacy of sustainable fishing and healthy fish stocks for future generations, it must do better.
"Fishing on our reef should be a gold standard. Allowing intensive fishing for a stock that is 17% of unfished levels is clearly not enough.