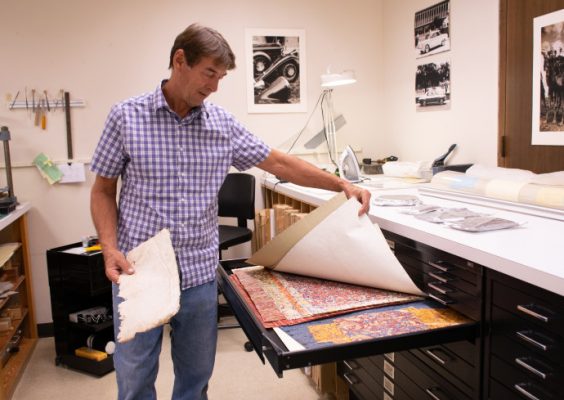 A curator with a unique window on history
The deliberate preservation of the old. Curatorial Librarian David Stokoe has dedicated his 40-year career to repairing and preserving a wide range of unique library materials and collections.
For the past 16 years, Stokoe has worked at Syracuse University Libraries Special Collections Research Center and his Conservation laboratory. Located on the sixth floor of the Bird Library, the recently dedicated Joan Breier Brodsky '67, G'68 Conservation Lab is responsible for the conservation and preservation of individual items and entire collections, making repairs to bound and unbound manuscripts, printed books, works on paper, architectural drawings and much more.
Throughout his career (which began at 17 in his hometown of Newcastle upon Tyne in the UK), Stokoe has had an extraordinary window into history. This is the nature of a conservator who has worked in museums, libraries, government archives and universities. Some of the most memorable items that have passed through his hands are:
Records relating to King Herod's census
4,000-year-old cuneiform tablets used by shepherds to record their flocks
Artwork and writings from the Isle of Man internment camps during World War II (housing people considered a security risk at the time)
Ancient bibles and medieval manuscripts printed from the 14th century
An eloquently written letter by Malcolm X describing his philosophical evolution on racism
Stokoe says the toughest project was piecing together parts of the epic "Prince Valiant" comic created by Hal Foster in 1937. It's an adventure story that continues through 4,000 comics.
"It was originally drawn on large boards with pasted-on captions, many of which have come loose or come off completely over time," Stokoe explains. He designed a spreadsheet to keep track of all the "orphan" captions, words and letters. Much like a giant puzzle, Stokoe essentially "reconstructed" the series using printers' proofs and placed individual sheets back into acid-free wallets to preserve them forever.
A conservator's job includes everything from repairing torn and tattered paper to removing tape, reconstructing books, cleaning and chemically treating paper, preparing items for preservation in a cold storage in a humidity controlled environment.
Thanks to generous philanthropic support, Stokoe has had the privilege of working with the most advanced tools in special conservation laboratories, including a custom box making machine who makes acid-free archival book boxes (it used to take 20 to 30 minutes to assemble archival boxes by hand; now it takes less than five minutes).
Recently, Syracuse University completed construction on a 15,000 square foot facility that includes cool and cold rooms to provide optimal environmental conditions for materials that are essential for teaching and research.
Stokoe is responsible for training staff in many aspects of preservation and also teaches a graduate class "Preservation of Library and Archive Collections" covering storage environments, disaster planning/response, repair books and paper, and much more. That's why the students in her class fight against books: "They each get a hardback and a paperback. We damage books and repair them. We break joints and spines, tear pages, remove spines and damage the corners of boards. Of course, it's all hypothetical and they don't get any points for the damage, just for the repair," he says. He notes that damage inflicted in seconds can take hours to repair.
He brings with him to class, lectures and workshops a wealth of experience in damage and destruction, as well as extraordinary details of the disaster recovery process.
"At one facility, we've had 29 water-related emergencies in just five years," Stokoe says. "Several construction projects have contributed to water infiltration, burst and leaking pipes, basement flooding and more. We have used a freeze-drying technique to salvage many historically important medieval volumes and other materials affected by water damage. He remembers using over 2 miles of duct tape to hang up plastic drop cloths and stuffing bags with 26 pounds of dust during HVAC renovations.
Fortunately, his disastrous experiences at Syracuse University were less dramatic, but no less interesting. Books in circulation sometimes come back with mildew, stains and even insects. "We have to put everything in a bag and freeze them at minus 30 degrees for two weeks to kill the bugs," Stokoe explains. "Then we have to vacuum and sanitize, but we are able to salvage the most material."
Stokoe maintains detailed notes on each retention process in a database; recording every processing detail is an essential part of a conservator's job.
"I keep specific records so someone in the future can look into what I've done," he says. "And almost everything I do is reversible. It all involves a bit of physics, math, chemistry, biology, environmental science, mechanics, and a lot of attention to quality control.
Stokoe says the job takes a lot of patience and attention to detail as it can take months to preserve some damaged materials, but he never gets discouraged.
"The repair is not the straw that breaks the camel's back," he explains. "Items that cannot be processed to make them accessible can still be stored in their current state in the hope that future technology will find a way. If it's beyond my ability to fix today, I hopefully there will be a solution in the future. This means that nothing is ever really eliminated due to its current state.